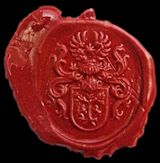 Unfortunately there are no pictures of Dr. Johannes Jacob Friedrich Macrander (*1810-†1859), born in Wetzlar, Prussia. Dr. Jacob Macrander died in 1859, leaving his widow with three teenage sons and a younger daughter. Dr. Jacob was the eldest brother of John Macrander (*1819-†1910).

On this picture his 2nd son, John Albert Macrander (*1843-†1921) and adult children. John Albert Macrander was born in Harrisburg, Daupine County, Pennsylvania. The family was next in Big Lick (now the City of Roanoke), Roanoke County, Virginia.

Around 1860, John Albert and his brothers became soldiers in the Confederate States of America (C.S.A.). George Henry Macrander was in an Infantry regiment, John Albert Macrander was in a Cavalry regiment, and the youngest son, Charles A. Macrander was in a Horse Artillery unit. After the conflict ended, the younger sister married a fellow soldier serving with her brother George Henry Macrander in the Infantry.