On July 10, 1840: Johannes (John) Macrander arrived in Baltimore harbor, Maryland, USA, aboard the bark "Emil". The journey was sixty-nine days at sea from Rotterdam, The Netherlands. John left his parents, Johannes and Catherine Jacobine (Cramer) Macrander, brothers Georg Jacob and Christian in Wetzlar. He quite likely traveled via the Lahn River to the Rhine and northward to the harbor at Rotterdam. Oral history of his family states that John carved a date in a comb or brush he brought with him on the journey. The where abouts of this personal grooming item is unknown at present. It would be helpful if a photograph of the object were forwarded to this site for inclusion in the history of John Macrander.


Did another Macrander cousin with the familiar name, John, and a tanner by trade, arrive on this 1844 trip? Through the many generations since Johannes Macrander was born in 1600 in Waldeck, each generation has one or more persons carrying the Johannes name or a variation of the name such as John in English or Jean in French.
To deepen the mystery, the 1850 Federal Census for Roanoke Co., VA includes a John Macrander, b. 1822, (age 28), occupation: tanner, living in the household of Dr. Jacob Macrander, M.D. It is well established in several early documents that John Macrander who many Missouri and surrounding states families evolved from, arrived at Baltimore, MD on July 10, 1840 on the Prussian brig "EMIL." His occupation was listed as tanner.
A passenger list of the June 26, 1844 arrival at Baltimore, MD of the Prussian brig "Apollo" has been located. It identifies John Macrander, from Wetzlar, occupation: tanner. His age is not stated. He is identified as "Grown person" (older than 12 years of age). Place of departure was Bremen, Prussia. This information will require considerable research effort to determine just who this person was. Did John Macrander return to his home in Wetzlar for a visit after four years in the U.S.? Did his older brother, Johann Jacob Friedrich Macrander (Dr. Jacob Macrander, M.D.) go home for a visit?
(German emigrants in the 19th century)
He resided and earned his income as a tanner and eventually as a farmer, variously in Frederick, Frederick Co., MD; possibly Harrisburg, Dauphine Co., PA; Salem, Roanoke Co., Va; Metamora, Woodford Co., IL; Buchanan Co., MO; and finally, Center Point and Westboro, Atchison Co., MO. On the passenger list and in the Wetzlar City Archive Macrander Family Chart his age was stated as 20 years (born in 1819). This event is confirmed in John's biographical record of 1901 relating his birthplace as Wetzlar, Rhineland Province, Kingdom of Prussia and final residence in Atchison Co., MO.
(Johannes 'John' Macrander (*1819-†1910) & Sarah Francis Arthur in the 1870-1880's era)
(John Macrander
Brig "Emil" 1840
Rotterdam-Baltimore)
(John Macrander
Brig "Apollo" 1844
Bremen-Baltimore)

(Georg Marcrander,
Vessel "Havel"
Bremen - New York
Arrival May 4, 1893)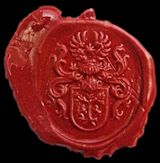 Find more photos in the photoalbum under button 'images'.